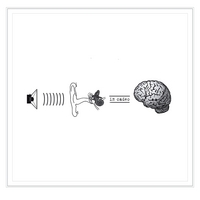 If you've never heard of In Cadeo, you're forgiven. Their self-titled EP was purely a studio baby, borne by the band's two founding members, Jared Scott (guitar/keyboards) and Pete Sustarsic (drums), before the full band ever assembled. The full group formed this year. But after reading this post, the bell has been rung. You need to know about In Cadeo.
The EP is an all-too-small collection of amazingly well-written, tight compositions. It begins with the midtempo, dirty fuzz of "The Archer," which has one of the catchiest marching riffs I've heard in a long time. After that, we are treated to "This Side The Grave," a much slower and quieter tune that craws forward on a bed of piano that's barely audible under the distortion. "Communist Lecture" is like the college intellectual version of "The Archer," with provocative lyrics ("I think I confused movement with action/I didn't step forward, but I swear I'm attracted") and powerful chords.
Overall, this is a drumsNguitars band, but they throw in other instruments to keep it interesting. Lyrically, the songs are great. In Cadeo has tremendous promise. I can't wait for the full-length.
For fans of: The Pixies, The Diggs, Low, Pavement.
And, best of all, THEY OFFER THE EP FOR FREE ON THEIR SITE! So you have no excuse not to check it out.
This Side the Grave
Bonus Cover!
Maps-Arcade Fire (Yeah Yeah Yeahs cover)
And don't forget to click the swag box for FREE EPs!!!!